Natural Gas: Critical Energy During Extreme Weather
A polar vortex, combined with a potential bomb cyclone, is here and bringing extremely low temperatures. What does that mean for the natural gas delivery system?
The scale of energy needed during cold events is mind-boggling. Excluding exports, natural gas use in the U.S. lower-48 over the next week will average around 120 billion cubic feet (bcf) per day, according to data from S&P Commodity Insights. In comparison, the U.S. uses only 82.5 bcf on the average day.
Fortunately, natural gas distribution systems are designed to perform during exactly this type of event, helping support the electrical grid.
The reason the natural gas industry invests in and maintains an underground distribution system of pipelines and storage is that it's very good at meeting seasonal and peak energy demands. Your local gas utility is a unique player in the energy industry. Gas utility system investment, design, planning, and supply procurement are about meeting consumer obligations on the coldest days. As the graphic below demonstrates, natural gas's reliability and resilience are baked-in features.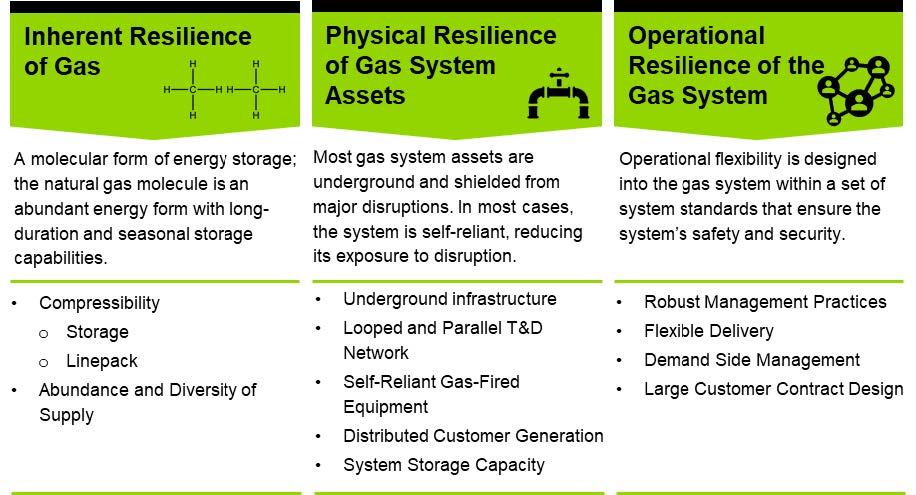 The gas system has inherent physical and operational characteristics that are incredibly valuable for reliable energy delivery during extreme weather events:
There's a diversity of natural gas supply sources;
Natural gas is a compressible molecule and can be stored in vast quantities;
Storage fields allow massive amounts of energy to be stored seasonally; and,
The pipeline infrastructure is underground and has multiple redundancies, making it extremely reliable and resilient to extreme weather.
The challenge of decarbonization only reinforces the value of the natural gas system. As governments, businesses, and communities design pathways to ambitious emissions goals, the gas system's ability to store and transport large amounts of energy represents a critical resource. Indeed, any comprehensive decarbonization scenario analysis must consider that the peak space heating load currently served by natural gas is significantly higher than that of the electrical system in most regions – see figure below.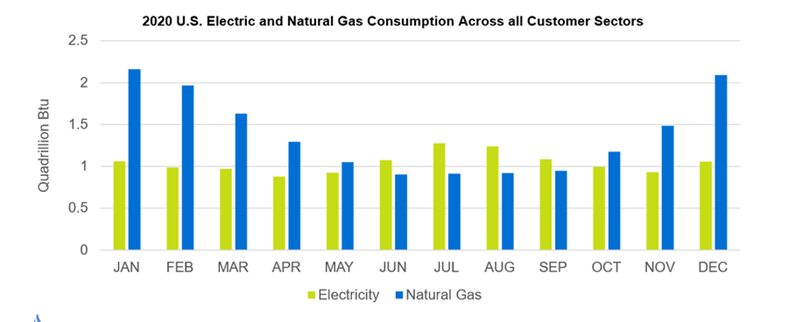 The current natural gas and electric systems have evolved together to meet customer energy needs with a high degree of reliability, at a relatively low cost, by effectively leveraging the relative benefits of both energy systems. The path forward—this week and in the next 30 years—is to take an integrated approach to decarbonization that leverages the gas and electric systems to make the most of each system's unique advantages. Natural gas continues to flow to homes during electrical outages, ensuring that those homes can stay warm and safe during extreme weather events and polar vortexes. Natural gas utilities provide safe, reliable and affordable energy and will continue to play a critical role long into the future in synergy with the electrical distribution system.