Natural Gas is Essential
Natural gas is an essential part of America's energy mix. Natural gas supplies nearly one-quarter of all the energy in the United States. AGA members distribute natural gas to homes, businesses, power plants, and factories.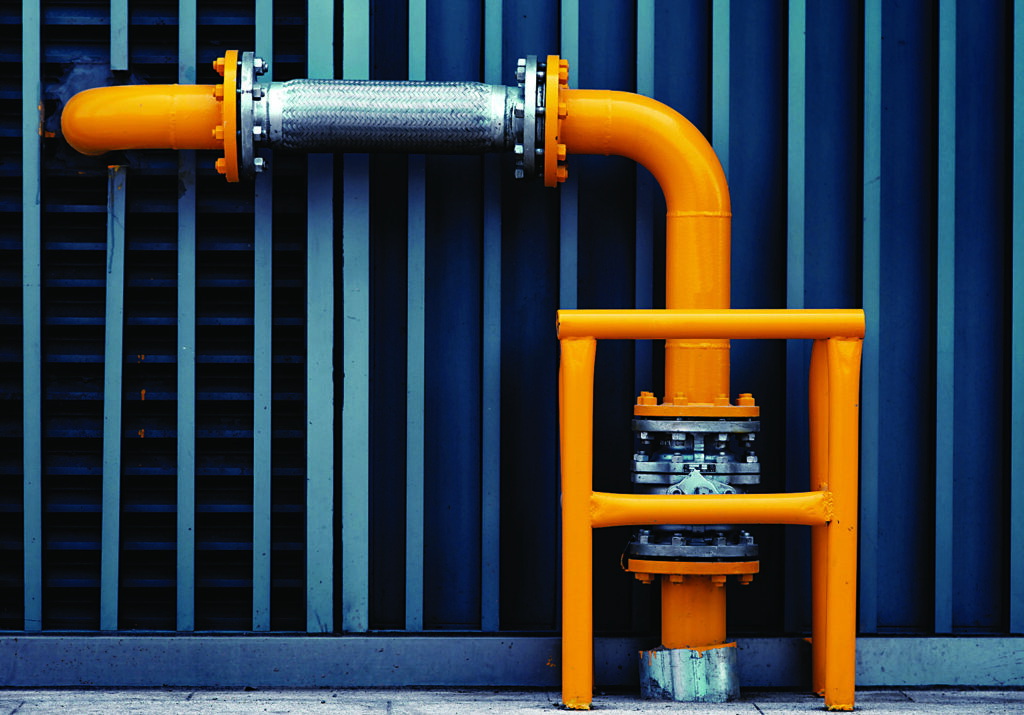 Cleaner Energy
By the Numbers
187 Million
Nearly 187 million Americans use natural gas because it is affordable, reliable, safe and essential to improving our environment. Americans rely on natural gas to heat their homes, warm their water and cook their food. Those numbers rise every year, making natural gas an indispensable part of our modern lifestyle.
69%
Emissions from natural gas distribution systems have dropped 69% since 1990. America's natural gas utilities are committed to even further greenhouse gas emissions. Not only are U.S. natural gas utilities cutting emissions from their operations, but they are also helping customers shrink their carbon footprints and working with other industries to reduce their impact on the environment.
4.1 Million
Natural gas fuels our economy in many ways, including by providing good-paying jobs to hard-working Americans. More than 4.1 million jobs are connected to the natural gas industry. Natural gas also powers manufacturing. It helps to heat and dry materials, heat factories and natural gas serves as a component to many essential products.
AGA Playbook
Featured Resource
Natural gas utilities "are the future of the natural gas industry" by innovating, cultivating a diverse and inclusive workforce, and exceeding customer expectations. The AGA Playbook tells the story of an industry delivering the reliable energy that Americans depend upon. AGA invites customers, policymakers, and anyone invested in our clean energy future to flip through the pages of The AGA Playbook to learn more about the commitment of America's natural gas utilities to affordability, the environment, innovation and safety.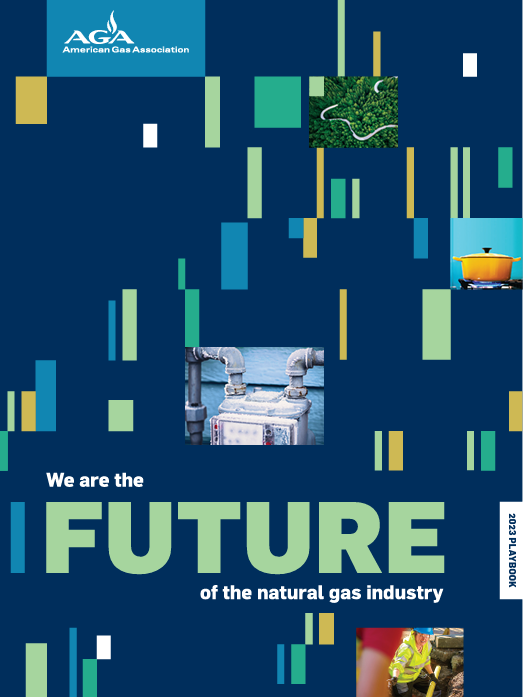 What Is Natural Gas?
Natural gas is the earth's cleanest fossil fuel and is colorless and odorless in its natural state. It is composed of four hydrocarbon atoms and one carbon atom (CH4 or methane). When it burns, natural gas produces mostly carbon dioxide, water vapor and small amounts of nitrogen oxides.
The Origins of Natural Gas
The natural gas we find and use today began as microscopic plants and animals living in shallow marine environments millions of years ago. As living organisms, they absorbed energy from the sun, which was stored as carbon molecules in their bodies. When they died, they sank to the bottom of the sea and were covered by layer after layer of sediment. As this organic feedstock became buried deeper in the earth, heat, combined with the pressure of compaction, converted some of the biomaterials into natural gas.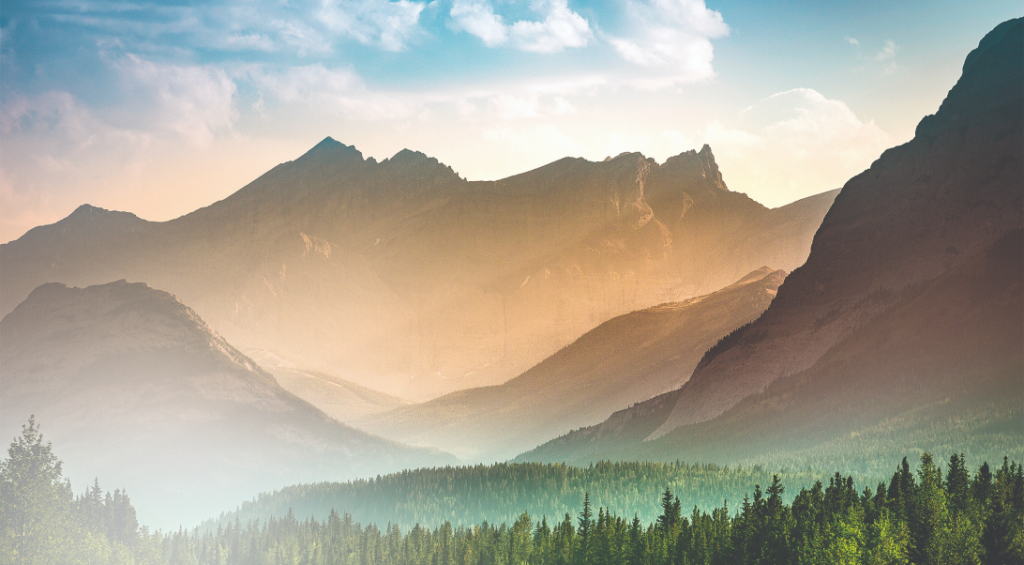 From the Ground to You
Production companies then explore, drill and extract natural gas from the ground.

Transmission companies operate the pipelines that link the gas fields to major consuming areas.

Distribution companies are the local utilities that deliver natural gas to the customer.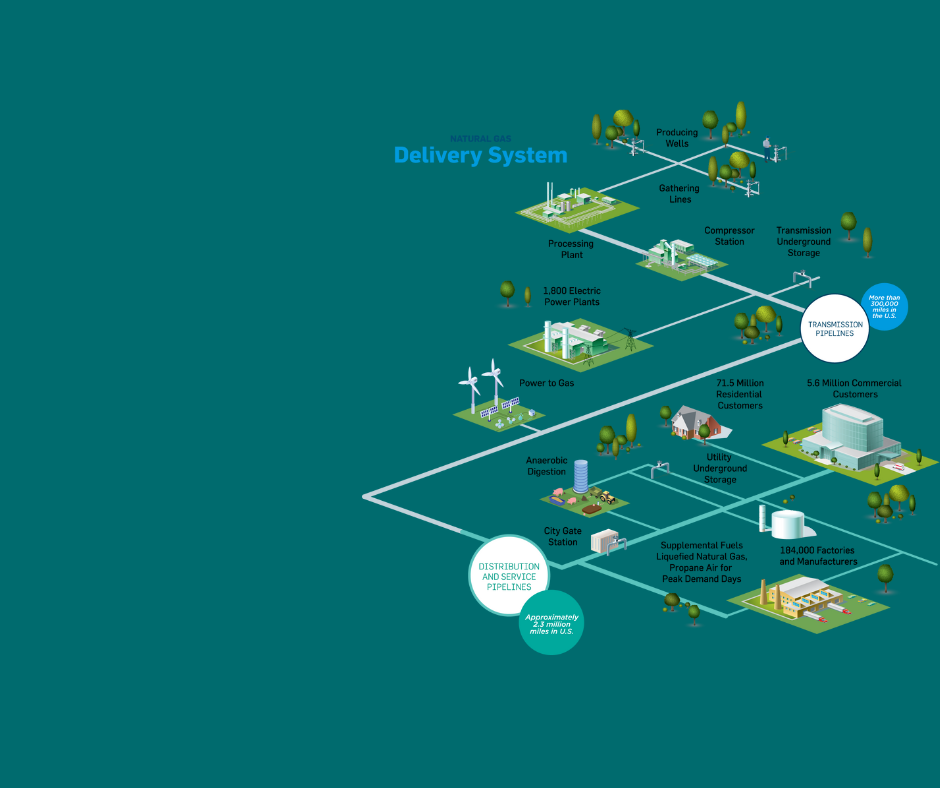 Environment
AGA's Climate Change Commitment
AGA is committed to reducing greenhouse gas emissions through smart innovation, new and modernized infrastructure and advanced technologies. This pledge includes 10 commitments to further reduce methane emissions from natural gas utility systems. It also includes eight principles for an effective national policy approach to reducing greenhouse gas emissions and addressing climate change.