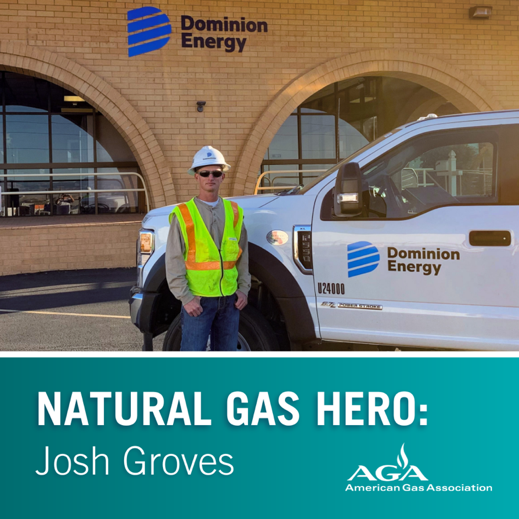 While filling up at a gas station in St. George, Utah, Josh Groves was captivated by a beautifully restored '56 Chevy Bel Air next to him. But his attention abruptly shifted with the distinct sound of liquid gushing onto the concrete. Concerned, Groves sprang into action to ensure the safety of those nearby.
Groves, a Dominion Energy Utah gas operations specialist, quickly identified the source of the sound—a gasoline spill from under the Chevy. In a moment of shared realization, he and the car owner made eye contact, both comprehending the gravity of the situation. "I ran over, and his wife was just sitting in the passenger seat, unaware of any of this going on," Groves said. He checked under the car and saw gasoline spilling from the fuel tank directly onto the Chevy's exhaust pipe—still hot from the couple's drive to the gas station, creating an imminent risk of ignition. Groves instructed the car owner to call the fire department while he ran inside to alert the gas station attendant.
As the gasoline continued to flow, perilously edging toward a nearby storm drain, Groves drew on his comprehensive safety training as a gas operations specialist. "When I saw that," Groves said, "I hurried to my truck and got my spill kit [which consists of absorbent foam pads that soak up fluid] and wrapped it around the drain before the fuel got to it."
While they waited for the fire department, Groves moved his company truck to block anyone else from pulling into the stall behind the leaking car. Armed with a fire extinguisher, Groves stood ready "just in case" he could help mitigate any damage, he said.
Groves remained vigilant until the fire department arrived, personally briefing them on his efforts to halt the fuel's flow. The fire chief, impressed by Groves' swift action, expressed sincere gratitude and acknowledged Dominion Energy's continued presence in times of need, saying, "You're always here helping us. What is it you guys don't do?"
The owners of the '56 Chevy were profoundly grateful for Groves' level-headedness and quick response. In a message of thanks to Groves and Dominion Energy, the couple said, "Josh is the kind of man who makes our community great with his can-do volunteer spirit. He is well trained and in control…I want to thank you for having this kind of young man in your organization."
As a utility that provides reliable, affordable energy to nearly 7 million customers across 16 states, Dominion Energy equips its employees to handle various emergency situations, and Groves attributes his fast response to his Dominion training. Dominion Energy also provides specialized resources to first responders to ensure they are equipped with natural gas and electric safety information.
Every day, natural gas workers like Josh Groves commit acts of heroism to keep people safe. We are proud to highlight these Natural Gas Heroes as part of our ongoing Fueling Our Communities program.
In Groves' own words, "We work for the gas industry, and our priority is safety. Our company trains us to be able to respond and to know how to react. So, even though this didn't pertain to my job, they've prepared me for any type of emergency. Our first action is always to make sure the people are safe—that's our No. 1 priority."